Clean Water
We work to supply clean filtered water to rural areas in Pakistan. One complete water filtration unit to supply clean water to an entire village community only costs £5,000.
Farah Khushi, one of our unpaid Trustees, visited the Tangi area devasted by floods in 2012:
'After the floods Medical Aid to Pakistan funded the water filtration plant to provide much needed clean drinking water for the areas surrounding Swabi and Mardan. With the help of UM Trust this plant was made mobile to reach the worts hit flood areas like Tangi. Dr Kaukab Rajput and I were humbled to see an entire village reduced to empty land where the life and hope had been wiped away by floods.'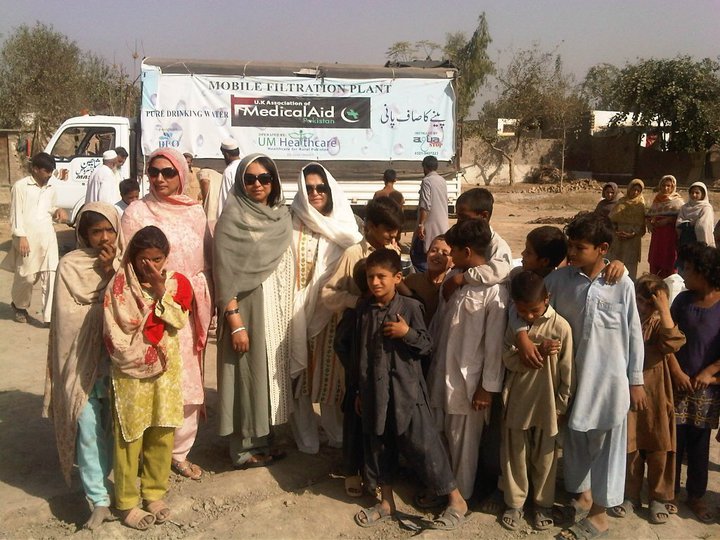 Farah Khushi, one of our unpaid Trustees, visiting the flood affected Tangi area.
In 2012 we installed water filtration units in Mardan, Toba Tek Singh, Sukkar, Sind and Punjab. These units now provide clean drinking water for thousands of families.
Our aim in 2013 is to double the number of water filtration units supplied to villages in Pakistan. Please help us to do this by making a donation or joining us at a fundraising event.
Endemic Water Pollution
In the village of Sammon Rind in tehsil Chachro, Tharparkar, about 480 km from Karachi, almost all of the 3,000+ people walk with their spines bent, unable to stand up straight.
The reason for their suffering is that the only drinking water for the village is contaminated with arsenic and toxic levels of fluoride and salts.
These polluted areas also need our help. Water filtration to remove these toxins is vital for the healthy survival of the communities affected.
Please make a donation. No amount is too small.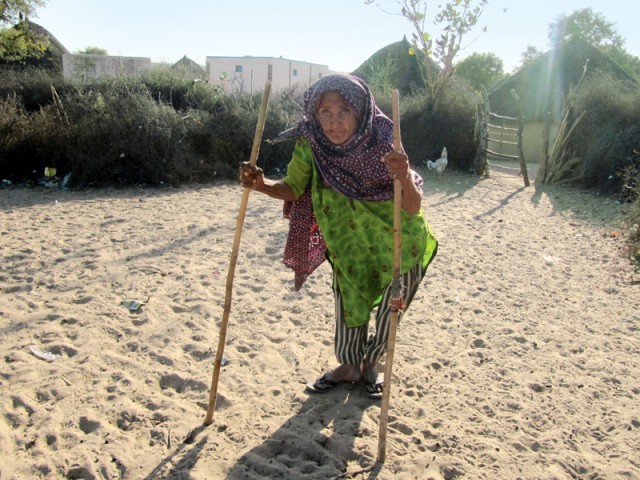 The arsenic contamination of underground water in Thar has been confirmed by UNICEF as the cause of physical degereration.