Who We Are
Medical Aid to Pakistan is the UK's primary charity working exclusively on healthcare initiatives in Pakistan.
Medical Aid Pakistan was founded following the Pakistani Earthquake in October 2005.
It was granted charity status in May 2008.
We work alongside the existing medical care system in Pakistan to relieve sickness, disease, and poverty. We provide life saving equipment and medication to those unable to afford this treatment. We promote preventative health care by assisting the local medical personnel and provide resources in areas in need of emergency relief and sustainable support.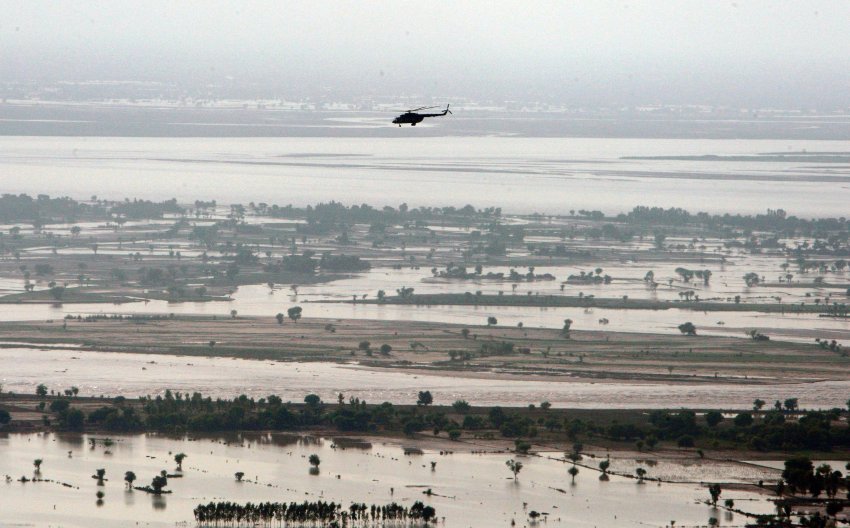 An aerial view of flooded areas of Mithan Kot in Pakistan's Punjab province. The county's agricultural heartland — including rice, corn and wheat fields — was devastated by the floods.
Support following the 2005 Earthquake
In June 2006 we held our first event in London and raised £6,000. This money was allocated to the Spinal Injury Unit in Kashmir SCIPPER Appeal (Hashoo Foundation).
SCIPPER (Spinal Cord Injury Project for Pakistan Earthquake Rehabilitation)
Over 6000 spinal cord injury patients have been estimated to have survived the Earthquake in Pakistan in October 2005
Most victims were women and children
Affecting mainly Thoracic and or Lumbosacral spinal cord.
Some underwent spinal stabilization surgeries.
Small number developed quadriplegia
Inn addition to physical injuries these patients had severe psychosocial trauma
Initially these patients were in field hospitals
They then lived in tents and shelters with their families
Some women and children had no surviving relatives and these people lived in various facilities.
Team of doctors from USA lead by Dr Zeba Vanek a Neurologist with special interest in movement disorder visited Pakistan and SCIPPER project was set up.
CARE2CHILDREN
£8,000 was sent to Cure2Children (C2C). This is a non-profit making, non-political and secular organisation providing support to developing countries' health professionals caring for children with cancer and blood disorders. Their aim is to give a significant and measurable contribution, even if modest, to the cure and well being of children with severe disorders such as cancer, leukaemia or thalassemia, in poor countries. Cure2children aims to improve the care directly were underprivileged families live by training and supporting local doctors and nurses, purchasing supplies and providing equipment. In addition, financial, psychological and logistic support is offered to needy families to prevent treatment abandonment.
Their ultimate goal is to promote self-reliance and limit the painful emigration of distressed families seeking cure for their children in richer countries.
Facts About The 2005 Earthquake
Believed to be the 14th most destructive earthquake of all time
An estimated 3.3 million homeless
8 million people were directly affected
An estimated $5 billion (300 billion Pakistani rupees) of damage
Confirmed death toll of 74,698