Disaster Appeal
Medical Aid to Pakistan is proud to work with CDRS who provide emergency relief and mobile medical teams in times of disaster.
When the D.G.Khan region of Pakistan was hit with devastating floods Medical Aid to Pakistan sent immediate support to aid the flood relief work. From their donation CDRS were able to provide 2,000 water bottles, 50 tents and enough clothes, flour and bedding for a further 50 people.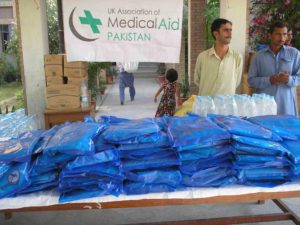 Helping flooded areas in the D.G.Khan district.
Organizations like the Rural Development Organization, The Leghari Foundation, The Imran Khan Foundation, The Gurmani Trust, U.K Association of Medical Aid Pakistan and the Bali Trust came forward to help the people of this region in the form of providing them with food, clothing, tents, bedding and other household items. 15 000 people are still displaced.
In addition to delivering immediate supplies other CDRS projects we have recently supported include: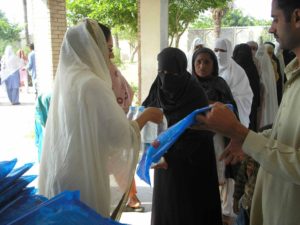 Delivering supplies in Choti Zereen.
Mental Health Professionals
Dr. Rukhsana Chaudhry, a clinical psychologist and Assistant Professor of Clinical Psychology of the George Washington University volunteered with CDRS in May 2012 to work with women, girls, and boys during a mental health relief mission in Islamabad and Rawalpindi.
Dr. Chaudhry and CDRS visited the Pehli Kiran School System and introduced a self-esteem and empowerment model to work with girls who were identified as at-risk by their teachers. She also introduced a bullying prevention and education initiative while working with both boys and girls to explore ways to manage stress and to cope with violence in their communities.
Dr. Chaudhry also visited with the girls from Saba Homes in Rawalpindi, Pakistan. Saba Homes is a home for girls who have lost their parents in the Kashmiri earthquake or due to illness. Utilising a "Girls Only Safe Space" model, each of the girls shared feelings they had not shared before and began to put their own stories together which will help with their emotional recovery from the past tramua they faced. Dr. Chaudhry worked with 18 girls at Saba Homes.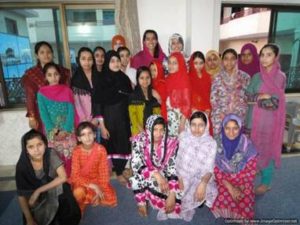 Dr. Chaudhry with the girls from Saba Homes in Rawalpindi, Pakistan.
Mother & Child Health Centre in Northern Swat
Anwar Iqbal, Dawn News correspondent in Washington DC, recently visited The CDRS Swat Mother & Child Health Centre. He was pleased to find a fully functional hospital in such a remote and affected area which could not have been possible without the support of charities like Medical Aid to Pakistan.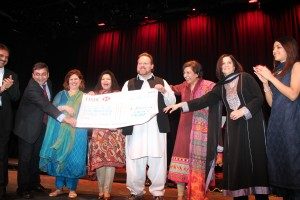 Donation of £5k towards Mother and Child facility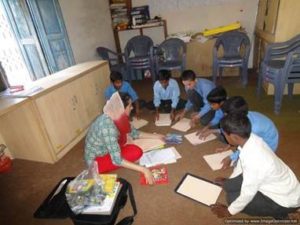 Mother and child facility Swat Valley
REPORT ON RELIEF ACTIVITIES OF IDSP FOR MASHKEL EARTHQUAKE'S VICTIMS WITH SUPPORT OF UK MEDICAL AID TO PAKISTAN AND INFAQ FOUNDATION, KARACHI.
Mashkel
is a tehsil of Washuk district in Baluchistan, Pakistan. The city area is also named as Mashkel. It lies at 467 km South-West of Quetta. Mashkel is closer to Iran, just 20 kilometers away, than it is to the Pakistani provincial capital of Quetta.
BACKGROUND
A strong earthquake occurred in Iran on 16 April 2013 at 3:45 pm local time. The magnitude of earthquake was 7.8 on the Richter scale whereas its focal depth was 82 km (USGS 2013). The epicenter of the earthquake was 83 km East of Khash in Iran (EERI 2013). The effects of earthquake were felt over a large region including Iran, Pakistan and India. In Pakistan, Mashkel was the nearest habituated town which lied within 100km radial distance from the epicenter near the border of Iran (Fig. 3). The town was badly affected by the earthquake where building damage and life loss was reported. It was a hit by a strong earthquake which demolished around 85 percent of the city's buildings. Mashkel and its roughly 20,000 inhabitants bore the brunt of the earthquake that shook buildings across Pakistan and the Gulf region. The remoteness of the town has made delivering aid a challenge.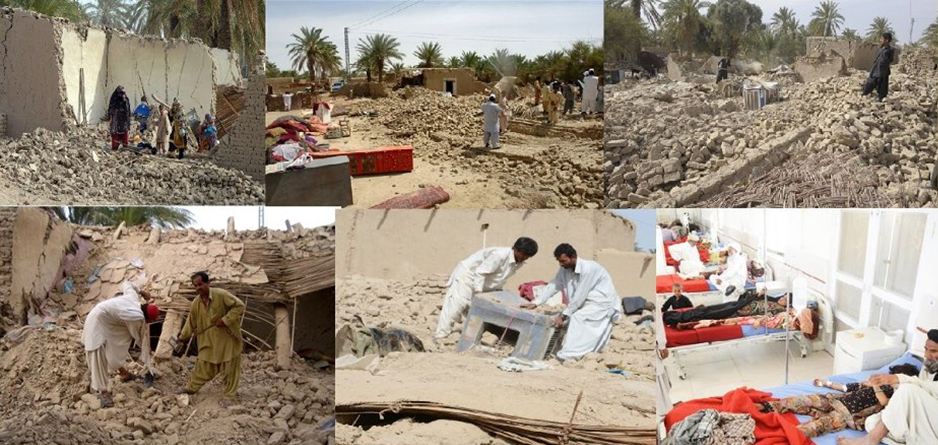 Effects of Earthquake:
Affected Lives
According to some of the reports , nearly 45,000 people were affected in Mashkel out of a total population of 48,000 .More than 20,000 people are still waiting for relief activities in tehsil Mashkail.
Buildings Damaged
In respect of material types, RC buildings performed well and were undamaged. Minor damage to block masonry houses was observed in the Mashkel city area. The adobe buildings performed poorly, as can be expected and suffered huge losses . More than 3,200 homes, made mostly of mud, were either damaged or no longer habitable, forcing people to sleep out in the open or in makeshift shelters for night.
Communication System
The quake has also badly damaged the communication system in Mashkail and electricity supply from Iran was also suspended. More importantly, due to earthquake in Mashkel the lack of paved roads, electricity, mobile phone coverage and medical facilities has hampered the rescue effort.
IDSP'S INITIATIVE
IDSP with the support of Infaq Foundation and UK Medical Aid has taken initiative to provide relief services to the effected communities. In this connection IDSP has consulted with its senior fellow Mr. Sharif Shambezai, who is a native of Turbat and works closely with Mashkel people. He has recommended Mr. Ali from the Maskhail Community to work as a focal person in providing detailed information regarding the situation of the Maskhail.Mr. Ali was also responsible for identifying the needs of the communities and distributing the provided aid along his team.
In this regard, a meeting was also organized with Maskhail affected community representative to discuss the current situation and the need of the effected communities. Mr. Ali [representative from Maskhail Community] shared that the Government and relief organization had started their relief operations in Maskhail Community; they had already provided medicines and other relief items to the affected community. Mr. Ali has explained that the affected community needed the following items; Tents, Food, Mosquito Net,ORS and tablets for water purification on urgent basis, whereas the rest of items like medicines they had already received from various organizations and Government Departments.
Under IDSP's supervision, initially data was collected in order to identify the most deserving victims of the earthquake. It was found that there was a majority who had received medical aid but had no shelter as earthquake had demolished their houses. Thus according to the need IDSP organized a team to initiate the procurement process of below mentioned items.Infaq Foundation, Karachi-Pakistan had contributed With the contribution of Rs.250,000, from Infaq Foundation Karachi-Pakistan, the following items were purchased and distributed under the supervision of Mr. Ali.
Tents
Mosquito Nets
Tablets for purification of well water
Food items
ORS – While 440, 392.40 were donated by UK Medical Aid to Pakistan which were utilized in providing following items:
Tents [10 – 12 Family members] 72 Nos
Food items [2 Weeks] 72 Nos
Mosquito Net 72 Nos
Medicine [Water purification, ORS] 100 families
Transportation Charges from Quetta – Mashkail
Why Grocery & Tents were purchased instead of medicines?
As per the focal person's report, majority of the affected people had received medical aid through government and other agencies .People had been provided too many medicines but they did not know how to use the provided medicines .What majority needed was shelters as their houses had been demolished in earthquake and they had no place to reside. In the light of this very need of shelters IDSP tended to purchase and provide them with the tents. So 72 families were provided with tents and mosquito nets.
Secondly, according to the survey conducted by Mr. Ali's team there was more need of food items than that of medicine. Upon inquiry most of the affected people requested to supply them grocery of at least 2 months' since they were starving and had no source of income. So IDSP provided food items to 72 families. Thirdly, there was need of clean water since the water drawn from the well was not pure enough to be drunk, IDSP provided water purification tablets to 100 families. Moreover, Oral Rehydration Salt (ORS) was also provided to the patients who were suffering from diarrhea.