Dr Abdul Hafeez
Abdul is a General Practitioner currently based in Greater Manchester.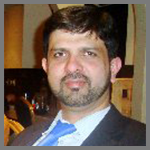 Dr Abdul Hafeez
He joined UK Medical Aid to Pakistan as a Trustee 5 years ago. He has served as the lead for media and has also worked on the Clean Water Filtration Projects. He feels privileged to be part of a team that is so dedicated and works tirelessly to alleviate the suffering of under-privileged communities all over Pakistan.
He established a support network in 2004 for Pakistani doctors called 'Association of Pakistani Physicians and Surgeons of the UK'. The Association is recognised as the official national body representing Pakistani doctors. It is a key stakeholder and works in partnership with other UK organisations such as the General Medical Council, British Medical Association and the Department of Health. He is one of the Clinical Leads of Clinical Commissioning Group at NHS Bolton and is a panel member of British Minority Ethnic Doctors Forum of the General Medical Council and is part of the team of Global Health Strategies based in New York which is working on Global Polio Eradication Initiative.
He is also a Clinical Tutor of the University of Manchester and has also been a national advisor to the Virtual Hospital project based in London. He has a keen interest in innovative health models and is a member of the Stockport NHS Foundation Trust. He is an advocate and campaigner for modernising the health system of Pakistan and strongly believes that change is possible.