Dr Abdullah Hoodbhoy
Dr Abdullah P Hoodbhoy is a retired General Medical Practitioner who now dedicates his time to positively affect fundamental health and sanitation in rural Pakistan.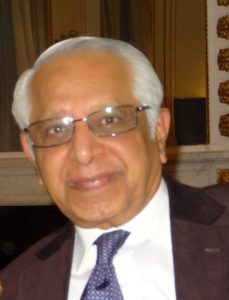 Dr Abdullah Hoodbhoy
Dr Hoodbhoy was one of the first Faculty Members of The Aga Khan University Medical College in Pakistan, where, as a Director, he played a vital part in creating the first Family Medicine Department to provide both medical assistance and ongoing health education.
He is on the Board of Directors of the Hashoo Foundation in the UK where his fundraising support and dedication has seen him personally oversee the building of disabled friendly housing and medical units for those affected by the 2005 earthquake in Northern Pakistan. He is also an Ambassador to The Health Foundation (Pakistan).
Dr Hoodbhoy's support of Medical Aid to Pakistan focuses keenly on their ongoing campaign to increase awareness, prevention and treatment of Hepatitis B & C.
A passionate campaigner for better access to medical aid, health environments and health education across all areas of Pakistan; he was involved first hand in the installation of water filtration plants in rural Sind.