Dr Kaukab Rajput
Dr Kaukab Rajput is an expert in diagnosis of hearing loss in children with complex problems. She has worked at Great Ormond Street Hospital in London for over twelve years and currently leads the Cochlear Implant Department.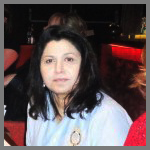 Dr Kaukab Rajput
In her own words: "I am constantly striving to do the best for my little patients. I firmly believe that every child must be given the opportunity to achieve their full potential despite disabilities such as hearing impairment. Many of my patients have complex medical problems. Sometimes hearing impairment can be the only aspect which can be optimised and this can change their quality of life significantly."
Dr Rajput bring this passion for improving quality of life to her work with Medical Aid to Pakistan. In 2005, alongside Yasmin Salim, Dr Rajput was a founder member of the charity. It remains vital to her that the charity adopts her belief in no waste and complete transparency of action.
These beliefs have led to over 90% of fundraising being given to life changing projects in Pakistan.