Farah Khushi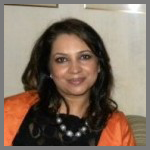 Farah Khushi
Farah Khushi was born in Pakistan and moved to Scotland when she was 19. Farah went on to complete her education with a MA in Politics from the University of Glasgow.
Farah now has four children but remains a determined fundraiser for those less fortunate. She is a trustee for Medical Aid to Pakistan and also pioneers women's rights with 'Scottish Circle', an organisation which raises funds for, and awareness of, violence against women in Pakistan. As part of her work she has visited projects in South Punjab. Where Oxfam and other organisations recruit and co-ordinate teams of 'change makers', women, and men, who work in communities where violence – both physical and emotional – remains common place.
After the 2010 floods Farah also travelled to the Tangi area of Pakistan to see the mobile water filtration unit provided by donations to Medical Aid to Pakistan. Farah continues to live by the simple mantra 'together everything is possible'.