Rakhshi Memon
Mrs Rakhshi Memon has formally worked at CEO level in the NHS and is currently working as an Independent Healthcare Consultant.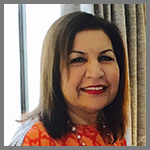 Rakhshi Memon
With nearly 30 years of service in the NHS, Rakhshi has a deep mix of experience and expertise gained from working at the grass roots up to the strategic level. She has worked on commissioning, contracting, assessment, diagnostic and service development in the NHS and also successfully developing and delivering innovative commercial business ventures.
As well as the Co-chair for the UK Association for Medical Aid to Pakistan, linkedinshe is a member of the Women's Interfaith Network, Women in Public Policy, former Governor of the Furness College for Further Education and founded the Doctors' Wives Association in 1983 successfully campaigned to achieve parity on related ancillary staff with unrelated ancillary staff in General Practice. She has been published several times on various clinical pathway topics and also on health for workers in the NHS. She is also a regular speaker at conferences on commissioning, clinical pathway redesign and health innovation.
In 2005, Rakhshi was invited to the first Medical Aid to Pakistan charity event. Impressed by the passion and hard work being done by Kaukab, Yasmin and the other trustees. She was invited to be a trustee and was proud to find a way of contributing back to her country where she was brought up – as Rakhshi says 'a drop in the ocean but every little bit counts.'
Rakhshi brings excellent influencing, organisation and project management skills to her role as trustee. She is passionate about equality and fairness.
With the new day comes new strength and new thoughts – Eleanor Roosevelt

No man is an Island, entire of itself. Every man is a piece of the continent, a part of the main – John Donne

Be kind whenever possible. It is always possible – Dalai Lama