Rani Khan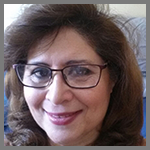 Rani Khan
Rani grew up between a small village in the Khyber Pukhtoonkhwa called Takht Bhai, in a politically active family and a Convent boarding school in Pakistan. In 1979, she landed in the UK with her husband and one year old daughter, seeking political asylum with no previous exposure to the world.
Rani has a very pleasant personality. She likes to have a laugh and get everyone to join her. She believes that life is too short and we must enjoy the moment and contribute back to society. With over 25 years of experience in the Public Services, Rani has been working largely within the local authorities, making a positive difference in the lives of the underprivileged. She has worked with all groups of people including refugees, young people, under 5s, elderly and disabled as well as the elected representatives, both in the UK and Pakistan. Her experience of government policies, formation and registration of community groups and interaction with politicians has been helpful in providing support to MAP.
Rani doesn't believe in giving up and perseveres to bounce back from every challenging situation. The 43oC temperature in August 2009 did not stop her from going out into the flood stricken areas in Nowshehra and Charsadda. She was again in Pakistan during the Army operation in Swat, where several thousands of people fled their homeland. She recalls that it was so gratifying to be able to collect funds and provide water pumps, food and shelter to these communities. In 2009, Rani was also diagnosed with Heaptitis C and met Kaukab Rajput, the then Chair of UK Medical Aid to Pakistan the same year. It didn't take long for Kaukab to convince her to join UK MAP as an executive committee member. Having personally gone through the experience Rani is able to provide guidance to the committee when it comes to assistance with the Hep C treatment. Additionally being from a tribal Mohmand Pathan family background, her knowledge of the local customs also comes in handy at times of implementation of projects in remote and tribal areas, such as Bannu, Mardan and Swat, as well as in Balochistan.
For the last few years, Rani is a trustee and key member of the organisation. She also runs a personal Charity programme called SAFE (Sattar Academy for Education) that provides educational scholarships for people around her father, Sattar Khan Mohmand's village and other people in the Khyber Pukhtoonkhwa areas. She also works with couples and individuals facing relationship issues, property disputes and domestic violence. She is currently writing a book and fund raising for water purification plants in the Takht Bhai areas and aspires to provide all villages with pure drinking water and proper sanitation facility in the Mardan district of Khyber Pukhtoonkhwa in Pakistan.
I alone cannot change the world, but I can cast a stone across the waters to create many ripples. – Mother Teresa