Pakistan Coronavirus (COVID-19) Ration Relief 2021
COVID-19 has been declared by the World Health Organization (WHO) as a global Pandemic.
Like other low- and middle-income countries, Pakistan finds itself in a heightened time of test and tribulation. Those who are already social/economically vulnerable will now face further struggles as they are made destitute by the lock down. There will be many more people unable to provide for families to include the elderly, children, single parents, ill family members increasing the risk to ill health, homelessness and poverty.
UKMAP is fortunate enough to partner with our on the ground partner charities CONNECT to organise, plan and provide food parcels to those families most in need managing a robust distribution scheme. UKMAP with CONNECT have joined efforts to try and reach out to as many cities across Pakistan as they can to help those families impacted by this pandemic.
The process adopted by CONNECT is below:
Areas are identified and earmarked based on households of daily wage earners. This assessment is conducted by CONNECT and via a thorough protocol.
CONNECT ensures there a robust supply and distribution chain established in the area.
With consent from the families – the number of people, address and a contact number is obtained.
One location in the area is sourced to gather 100 bags at a time.
Families identified on the list will be contacted and a group of 10 will collect their food parcel adhering to social distancing rules to minimise transmission of infection.
"Seek out the vulnerable among you. Verily, you are only given provision and support due to your support of the weak."

The Prophet Muhammad (peace be upon him). (Tirmidhi).
Please open your hearts and donate just £25 to feed a family of 6 members for a month.
One Parcel One Month One Household contains: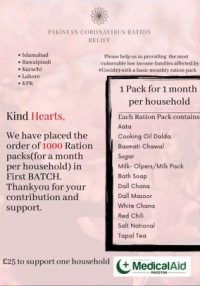 Flour (Atta)
Cooking Oil Dalda
Basmati Rice
Sugar
Milk- Olpers/Milk Pak
Bath Soap
Channa Daal
Masoor Daal
White Channa
Red Chilli
Salt National
Tapal Tea